We all found out last night via twitter and for me from @markheyes that Sarah Burton was spotted arriving at the Goring Hotel where Kate and co where staying and it seemed the fashion press were right with Alexander McQueen being the designer of choice. Today i waited with abated breath today to see the very McQueen gown that we've been speculating about for weeks and i loved it!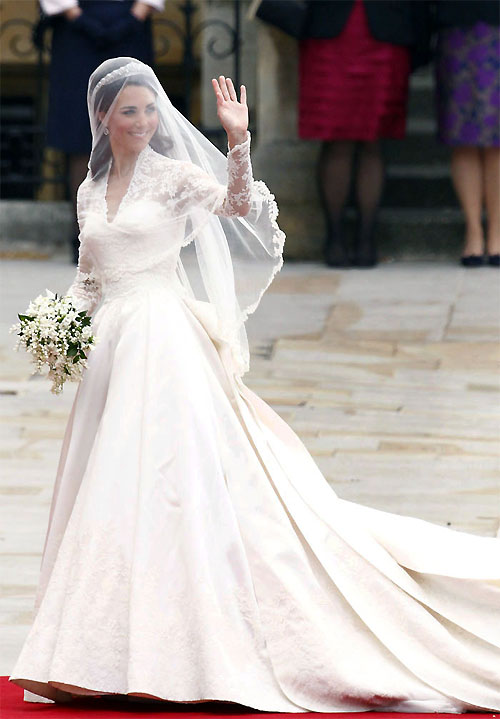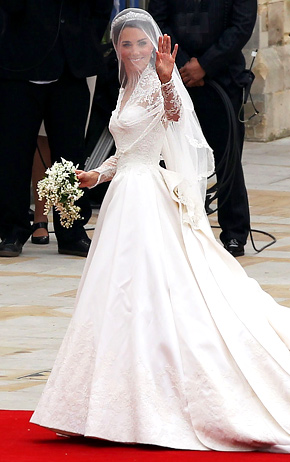 The simplicity of the design was stunning, in-keeping with Kate's style; demure, elegant and sophisticated. Obviously comparisons to Grace Kelly have been drawn due to the French Chantilly lace, but that is definitely no bad thing!
Of course the moment we were all waiting for....the balcony kiss!
Hair and make-up wise, everything was quite natural with Kate choosing to do her make-up herself, groomed eyebrows, eyeliner, nude lips and a flushed cheeks complimented the lace detailing perfectly on the dress. Richard Ward was on hand to tame her tresses, as predicted the majority of her hair was down with her long locks slightly curled.


Top of my best-dressed list at the wedding included:
Pippa Middleton...in Alexander McQueen as seen on Cameron Diaz - again beautiful design!
The Beckhams....in Victoria Beckham (Victoria) and Ralph Lauren (David).
Source
Samantha Cameron...in Burberry minus a hat/fascinator *shocker*

Now as it's a day of celebrations i don't want to knock anyone dress sense but Princess Beatrice looked liked she had been raiding Lady Gaga's dressing up box with her questionable millinery!
And on that note i'm off to toast the happy couple with some champagne, congratulations the Duke and Duchess of Cambridge!!